Running Basics: Become Certified to Coach your Clients in their Running Goals
"This course will help you feel more confident working with runners, better meet the fitness needs of your running clients, and widen your client base by offering programs designed for runners of all levels." ~ Thad McLaurin "RunnerDude"
ONLINE CONTINUING EDUCATION CERTIFICATE
NOW ENROLLING!
START ANYTIME. LEARN AT YOUR OWN PACE.
1.0 CEUs NationalPTI - - $99.00 (US)
1.0 CEUs NASM
10 CEUs AFFA
INTERACTIVE ONLINE COURSE
Running is one of the fastest growing sports in the country;
particularly with women and the 40+ age group (men and women).
This is a huge market of individuals to add to your client base.
Through this online course grow your confidence in working with runners and increase your client base.
THIS PROGRAM IS FOR YOU IF YOU HAVE FELT UNCERTANTY WITH ANY OF THE FOLLOWING:
· Ever felt unsure how to support your running clients?
· Not sure which types of exercises or training formats best meet the needs of your running clients?
· Thought about starting a beginning running program for your clients but not sure where to begin?
· Wish you had a better understanding of the fueling and hydration needs of a runner?
This is where we come in! This course can help you achieve all these goals and more!
WHEN YOU ARE DONE WITH THIS COURSE YOU WILL BE ABLE TO:
Expand your client base to those who would like to incorporate running into their program

Have better understanding of the needs of your running clients

Be able to offer beginning running programs with your clients

Add Fitness Programs specifically designed to support a runner

Create customized one-on-one and small-group Fitness Training Programs for runners
SAMPLE CERTIFICATION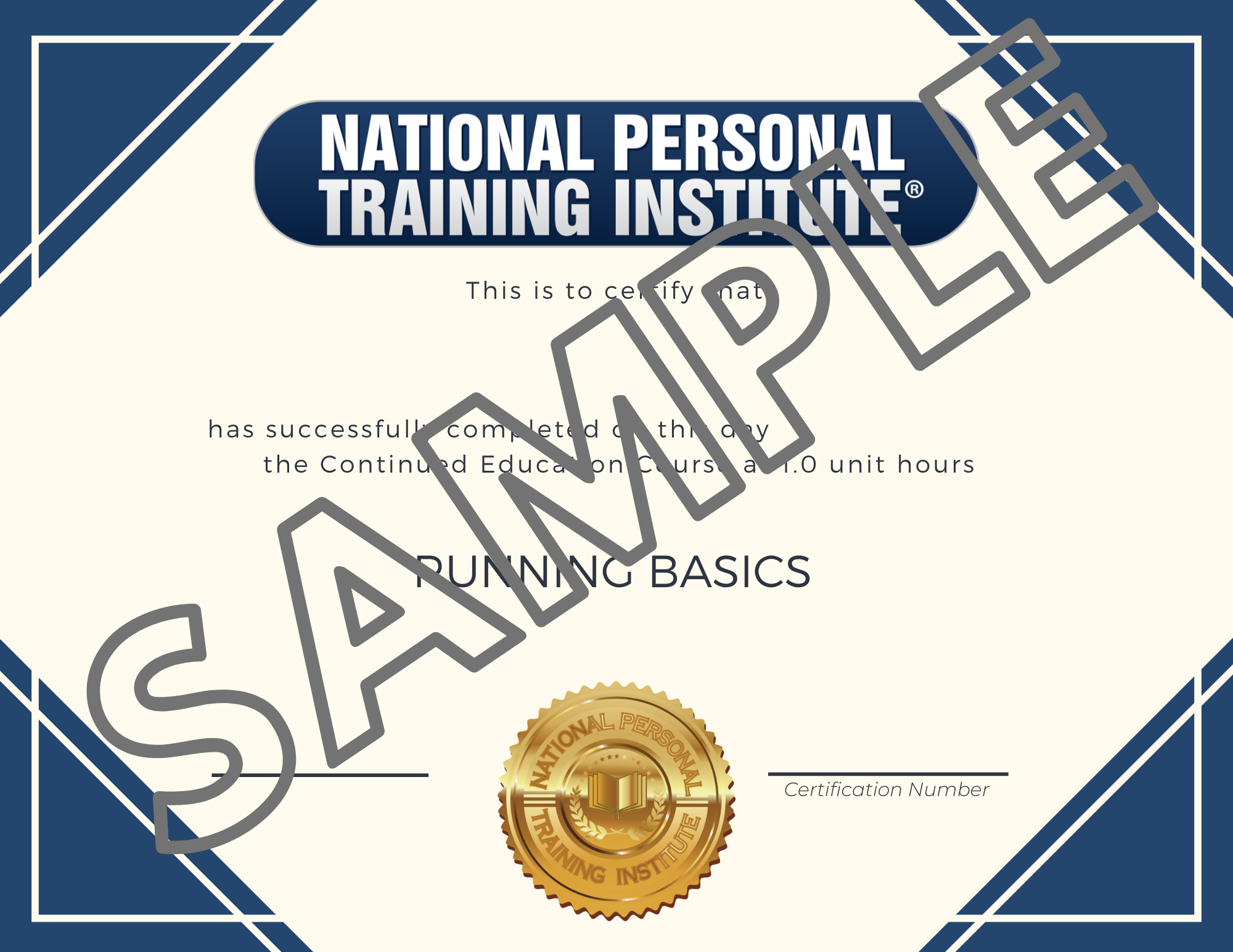 SAMPLE BEGINNING RUNNING MANUAL
PAYMENT PLAN OPTIONS
*Because of the style of education and receiving all information upon purchase, all sales are final.
*CEU is not VA benefitted

Are you in the Military or a Veteran?
Receive 10% upon checkout by entering your Military ID Number