Interactive/Hands-on Online Personal Trainer Certification
OPEN ENROLLMENT!
START ANYTIME & LEARN AT YOUR OWN PACE!
CERTIFICATION HIGHLIGHTS:
Hands-on/interactive course

Regular instructor support

Authentic voice, teaching through relatable situations

Real-world application

With our interactive on-line CPT, you will take your final exam with an instructor LIVE online

You will not sit for your test until you are ready, under the guidance of your instructor

FREE final retake, if needed

At home testing or at any facility that you prefer

Business tips and education for success

Accommodates all learning styles

Only exam that has a personal relationship between student and teacher

Changing the parameters of online education by being the only exam in the world where your exam will be provided in a practical manner
*See our payment plan options below
SAMPLE PERSONAL TRAINER CERTIFICATION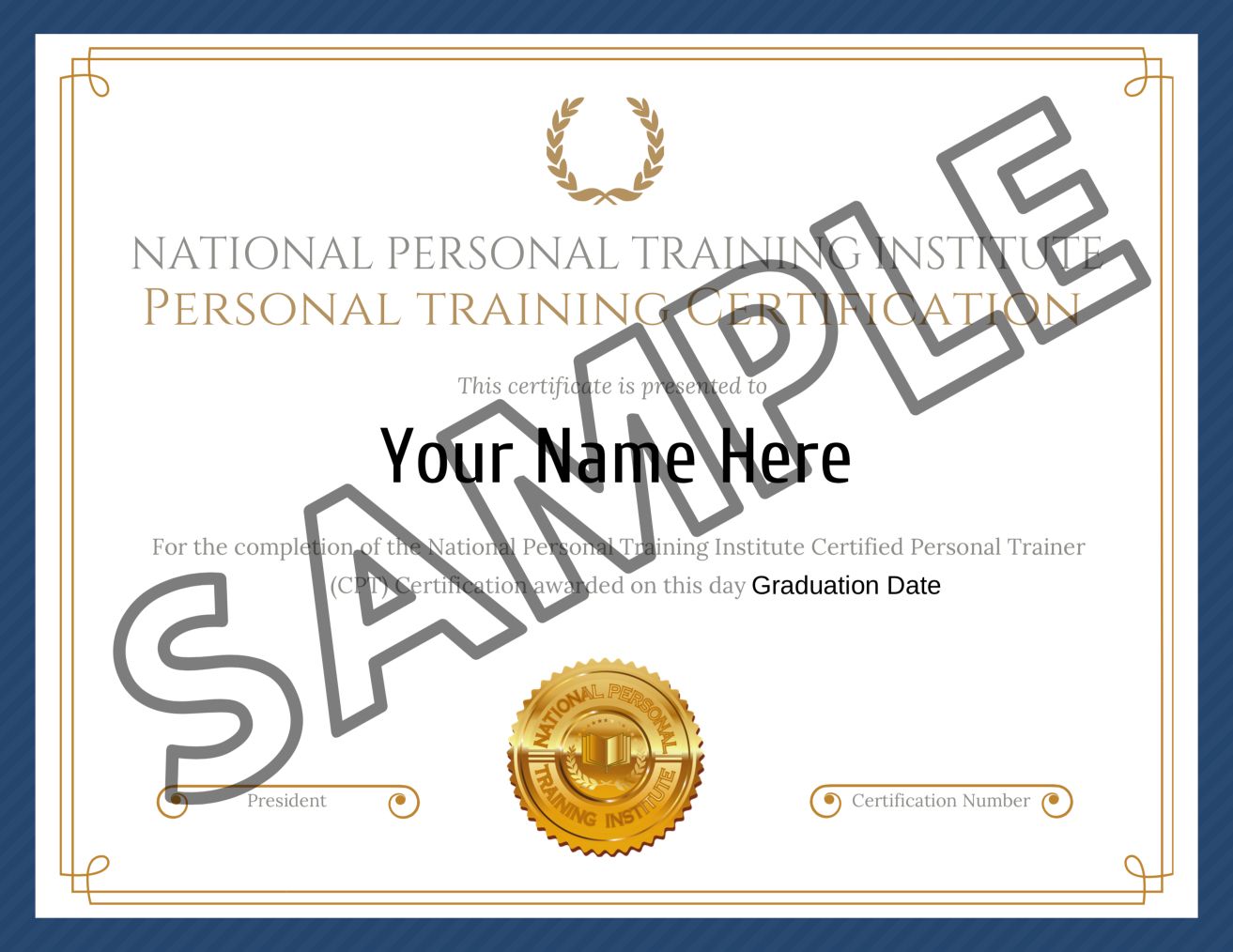 For decades, (and it still holds true) The National Personal Training Institute has had the distinction of being the Leader in Personal Training Education.
WE GIVE YOU THE FITNESS EDUCATION EDGE!
Our CPT program materials are put in multiple languages and formats to appeal to different learning styles:
eBooks

Manuals

Audio

Videos

Power point presentations

Reflections/worksheets/Labs

End of chapter quizzes

As well as other supplemental information

And personal support from your own one-on-one instructor
PLUS....NO RETAKE FEE. All of our students can relax since we allocate a FREE retake in the event of a non-passing score. You learn from failing. Practice and repetition help us retain and learn the material.
***Phenomenal education is now accessible to all***
Join us and call yourself a NationalPTI Certified Personal Trainer!
It is not just a Certification, but a connection.
We are a community, as well as the advantage in the industry you have been searching for.
We are different!
*All sales are final.
*See our payment plan options below
*CPT is not VA Benefitted.
Join our Online/Interactive Personal Trainer Course today!
STEP PROCESS:
Step 1: Sign up at any time. This is an Open Enrollment Course that is done at your own pace, on your own time.
Step 2: Set up a phone call with the Instructor that has been assigned to you.
Step 3: Work through the curriculum online and take weekly calls with your Instructor/Mentor. They will assist you on your Journey to becoming a Fitness Professional.
Step 4: Email your instructor all of your real-world application (labs/reflections/worksheets). This will make up your Capstone Project.
Step 5: Upon successful completion of the online course content and instruction, you will be required to give an oral presentation answering 4 of the randomly chosen questions by your instructor from the 12 Final Presentation questions provided to you at the beginning of the course.
Step 6: Answer the Final question on your online platform. The information will be provided by your instructor upon successful completion of your Final Presentation. (You have one FREE Final Retake, if necessary.)
Step 7: Go to your online NationalPTI profile and print your Certification on nice, professional paper to display in your office.
PAYMENT PLAN OPTIONS
***Because of the nature of this online platform, and receiving all educational content up front, all sales are final.***
*Online CPT is not VA Benefitted.
FOR MORE INFORMATION REGARDING THESE PAYMENT PLANS, PLEASE DO NOT HESITATE TO REACH OUT TO YOUR LOCAL AREA DIRECTOR.

Are you in the Military or a Veteran?
Receive 10% upon checkout by entering your Military ID Number

UPON COMPLETION OF THIS COURSE, YOU WILL BE ELIGIBLE FOR 20% OFF ALL OF OUR ONLINE CEU COURSES...FOR LIFE!