The secret ingredients to the TOP missing pieces of information and critical concepts that are preventing Personal Trainers from reaching their true potential.
THE MINDFUL TRAINER ONLINE CONTINUING EDUCATION CERTIFICATE
OPEN ENROLLMENT!
START ANYTIME AND LEARN AT YOUR OWN PACE!
1.0 CEUs - - $99.00
*See Payment Plan Options Below
Strengthen the "heart muscle" of your Personal Training business so your clients are left feeling fulfilled on a wholistic level. Your customer retention will sky rocket!
FROM THE AUTHOR:
"Through the simple practices outlined in the Mindful Trainer, you will learn how to optimize your training sessions by bringing your and your clients' attention into the present moment. Utilizing the three "Re's"– Re-connecting, Re-committing and Re-conditioning–you will strengthen the Trainer/Client trust muscles, and in the process improve the likelihood of your business success and personal well-being over the long haul."
Barbara Robitaille
THIS PROGRAM IS FOR YOU IF YOU CAN RELATE TO THE FOLLOWING QUESTIONS:
Do you have clients that never sign up for another training program after they are done with the first?
Do you feel uncomfortable with your clients when they enter the door...as if there is a disconnect between the two of you and their purpose for being there?
Do you wish you had the tools to create a culture that drew clients in and kept them coming back?
Do you wish you could create value in your training sessions beyond a good workout?
Do you find that there are days you don't want to go to the gym and train your clients?
Do you feel like you are spinning your wheels and your clients can sense it?
This is where we come in! We have the solution to all of those problems!
Join our Mindful Trainer Continuing Education Certificate Course today!
NEXT STEPS:
Step 1: Put this course in your cart and push buy. We are always enrolling new students and you can start any time.
Step 2: Navigate through our interactive/real-world application course at your own pace.
Step 3: Once you have successfully passed the course with an 80% or above, you will push Finish and make your way to your profile page.
Step 4: On your profile/account page (in the upper right-hand corner) click on "My Certificates" and print out your certificate on nice paper so that you can display it for all your clients to see.
INCLUDED IN THIS COURSE
The Mindful Trainer Certification

Course completed at your own pace

A series of downloadable PDF tools to help you get your business out of its slump and to the next level

Practice quizzes to solidify learning

Tools to create a deeper professional connection with your clients

Tools to help your clients will hit their goals faster

Tools to help you remember your "why" so that the passion for your career is reignited

Tools to help your programs and daily training sessions be more meaningful, all while increasing the culture within your business.

Labs/worksheets that take your learning to the next level through real-world application

1.0 CEUs with the NationalPTI (Accepted by other certifying agencies)

Lifetime network through the National Personal Training Institute Global Platform
*See Payment Plan Options Below
*Because of the style of education and receiving all information upon purchase, all sales are final.
*CEU is not VA benefitted
~ EARN 1.0 CONTINUING EDUCATION UNITS (CEUS) FROM THE NATIONAL PERSONAL TRAINING INSTITUTE.
SAMPLE CERTIFICATION
SAMPLE MINDFUL TRAINER TEXTBOOK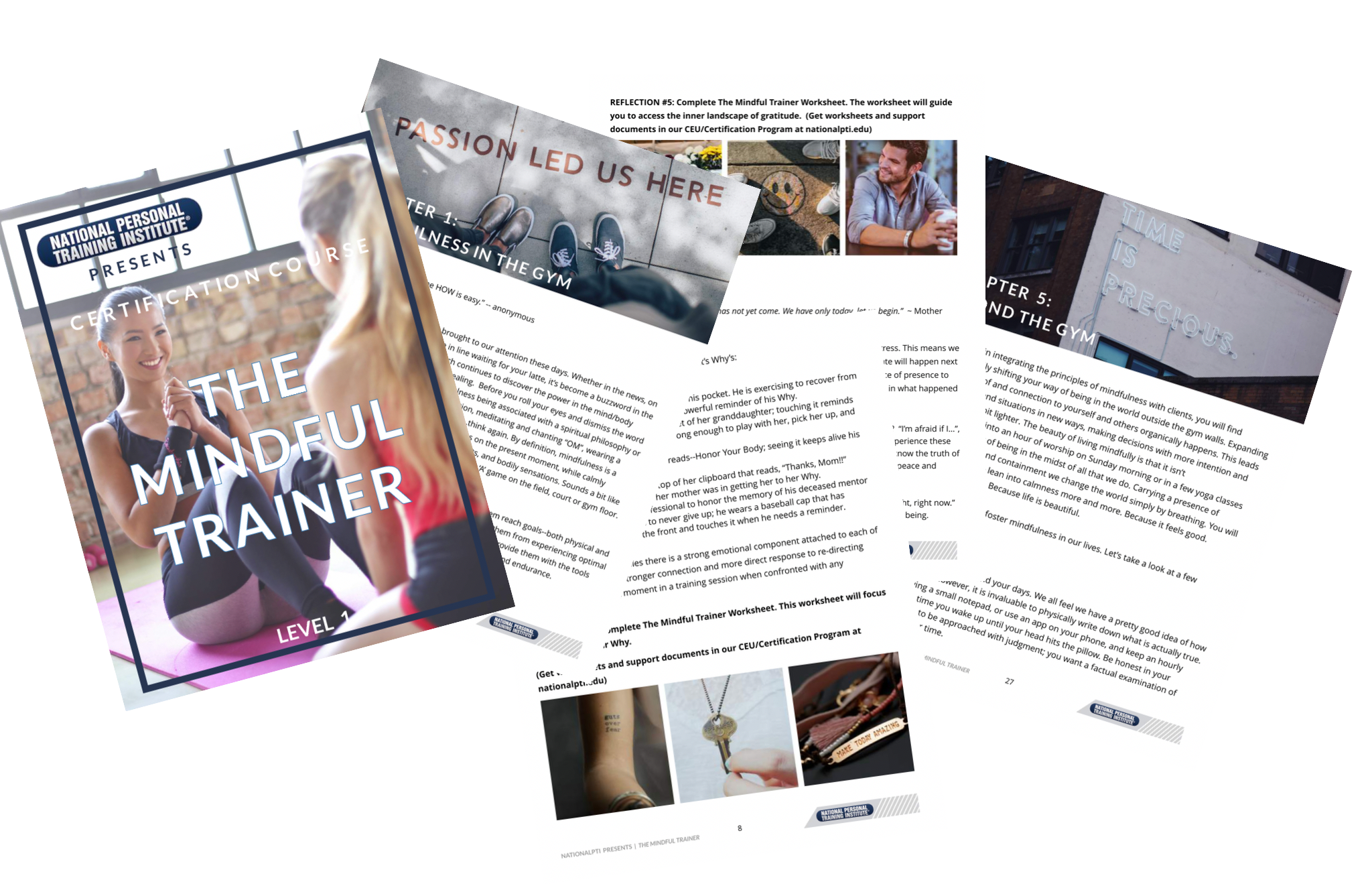 PAYMENT PLAN OPTIONS
*Because of the style of education and receiving all information upon purchase, all sales are final.
*CEU is not VA benefitted

Are you in the Military or a Veteran?
Receive 10% upon checkout by entering your Military ID Number